ABOUT REIDY SCANLAN GIOVANNAZZO FUNERAL HOME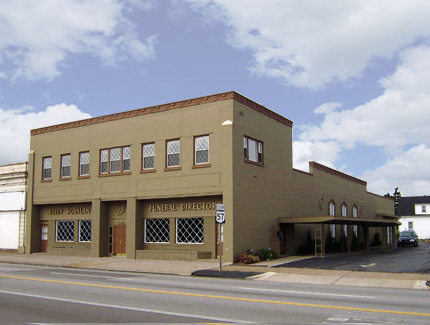 Since 1905, we have provided families in Lorain County with quality service. We are proud to announce we have returned to a family owned and operated business. We offer you services appropriate to your needs and budgets. Our highly trained staff, consisting mostly of family , will assist you every step of the way, before, during, and after the funeral. Vincent Joseph Giovannazzo, owner and licensed funeral director and embalmer, is available 24 hours a day to help you make informed decisions.
We are able to provide you with the greatest value - using the same quality merchandise found at other funeral homes at competitive prices.
We are centrally located on Broadway at 21st Street in Lorain, Ohio and have quick access to I-90/Rt. 2 . Our home is equipped with a large, well lit parking lot and our facility is accessible to the handicapped. All of these conveniences are offered at affordable prices with no hidden cost.
This facility is one of the largest in Lorain County with 10,000 square feet of single floor space decorated in the warm decor of a Williamsburg look.
We offer large reception rooms, access to our tea room for your use during calling hours and a large gathering room for your catering needs. We also will broadcast services on the Internet for mourners who can't be present and record the broadcast for later viewing. The greatest asset we offer is that we are owner operated and dedicated to the one you love.